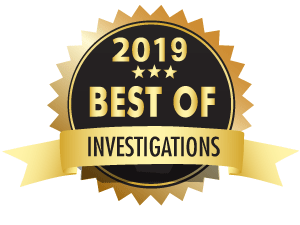 On The Lookout Investigations has been voted the "Best Of" in private investigations companies in New Jersey by the legal community in the 2019 annual New Jersey Law Journal "Best Of" survey.
This is On The Lookout's seventh year placing in the annual survey. Anyone who works at a law firm is eligible to cast their vote in the survey, which covers several dozen categories of legal support service providers.
"It is truly an honor to have been voted as the top investigations firm in New Jersey", says Jerry Colasurdo, managing member and owner of On The Lookout. "Our experienced investigators all bring an extensive legal background to the table and a wide range of expertise, giving us the ability to serve our clients and get them the information they need to support their cases."
On The Lookout's investigative team supports law firms and corporations in their varying needs, ranging from locating individuals, scene investigations and asset searches. With state of the art equipment, techniques and databases, On The Lookout is able to deliver quality information and results that often have a significant impact on cases.
On The Lookout Investigations offers a full range of investigative services, including asset searches, surveillance, witness statements and social media investigations. On The Lookout's sister company, DGR – The Source for Legal Support, also won in the "Best Of" survey in the categories of process service and messenger service for the eighth year in a row.